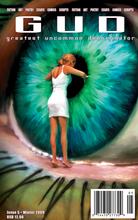 From GUD, news of their 5th issue:
Issue 5 wraps a scientific core with our most eclectic selection to date—including two mini graphic novels and a script that will have you bubbling over with mirth.
We open with Rose Lemberg's "Imperfect Verse", a tale of poetry, deception, and warring gods; then span the years to Andrew N. Tisbert's "Getting Yourself On", which sees mankind taken to the stars but suffering new forms of wage-slavery.
There's science fiction that stretches to the fantastic, science that once stretched the fantastic and has now become brilliantly pervasive, and dollops of science in otherwise mundane lives (see "The Prettiest Crayon in the Box").
Of course, we've got fantasy, psychological horror, humor, and drama; poetry serious, sublime, and satirical; and art that stretches from the real, to the surreal, to the violently semi-abstract.